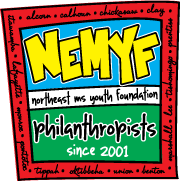 NEMYF was established in 2001 to involve young people in community development. NEMYF consists of around 60 11th & 12th graders from 17 counties of Northeast Mississippi. NEMYF allows students to make a difference, be philanthropists, meet other teenagers, learn more about northeast Mississippi, develop leadership skills, lead fundraising, and award grants. NEMYF has an endowment fund that currently stands around $139,000 all of which was raised by the students! 
During the fall semester, students focus on developing their own leadership and fundraising skills.  They then work to set and reach a fundraising goal.  In the spring semester, students identify nonprofits in their home counties, share information about the programs they provide, and vote to allocate grant funds.  They also host a press conference to present these organizations with the funds and share an update on their endowment.
Other activities include: 
Thank You to Our Sponsors
Hassell Franklin
Amber McHenry
Dr. Bruce Longest
Bob and Sharon parke
John Rimoldi
Brooks Grocery
New Albany Band
Gum Tree Mortgage
The NEMYF board members would also like to thank the other 48 individuals and organizations that provided funding for the 2021-2022SY.  Overall, the 21-22SY NEMYF board raised $6,128.19.
(2 counties contributing)
Boys & Girls Club of Northeast Mississippi (Corinth and Iuka Clubs)
Grant Amount – $920
Clubs offer a variety of tested, proven, and nationally recognized programs designed to empower kids and teens to excel in school, become good community members and lead healthy, productive lives.
(2 counties contributing)
Sally Kate Winters Children's Home
Grant Amount – $920
The mission of the program is to offer the gift of humanity, love, and respect to children traumatized by child abuse and neglect. They take in children, give them a house, clothes, and an education until they can find a good foster home.
Mission Okolona
Grant Amount – $460
In the spirit of Jesus Christ, whose directives compel us, Mission Okolona's purpose is to distribute available food to the needy in Okolona and surrounding counties.
Crossroads Ranch
Grant Amount – $460
To provide high functioning, special needs adults a safe, loving environment with supervised independence. Our goal is to provide activities and learning experiences which will focus on each resident's abilities, rather than disabilities.
Court Appointed Special Advocates (CASA) of North Mississippi
Grant Amount – $460
Advocates for the best interests of abused and neglected children through the service of trained, court-appointed community volunteers.
Regional Rehabilitation Center
Grant Amount – $460
Provides outpatient physical therapy, occupational therapy, speech therapy, dyslexia treatment, audiology services, and early childhood intervention to the communities of North Mississippi.  As a privately funded nonprofit, RRC does not charge clients or their insurance companies. 
Life Choices Pregnancy Center
Grant Amount – $460
An unplanned pregnancy can be tough, but not as tough as you are. Whether you feel overwhelmed, confused, excited, or more, we're here to help! We offer free and confidential pregnancy services so you can make an empowered choice about your life and future.
Churches United Food Depot
Grant Amount – $460
We provide nutritional food to residents of Pontotoc County who are in need.
My Choices Clinic
Grant Amount – $460
An outreach ministry committed to presenting the gospel of Jesus Christ to women with crisis pregnancies in both word and deed.
Agape Clinic
Grant Amount – $460
To share the love of Christ by providing free health care to those without medical insurance.
NEMYF BOARD MEMBERS 2022-2023
Caden Burcham
Ethan Nelms
Takhia Crump
Parker LeGoff
Julia McCoy
Jayden Lawrence
Kaylee Miller
Leah Moore
Ruth Andrews
Jack Easterling
Bella Vick
Mazzie Cooper
Abigail Ainsworth
Reagan "Kinsey" Plunkett
Wells Shipman
Katelynn Kirkendall
Alexandra Lampton
Sophia Crouch
Reed Bingham
Takarra Gates
Kortlyn Wells
Sophia Cervantes
Sydney Barber
Keven (Kimmer) Barber
Henry McCormack
Jamarious (Jay) Salters
Jenna Davis
Nan Pittman
Ben Campbell
Marissa Kidd
Vishnu Sai Gadepaili
Anna Reid Crane
MacKenzie McGuirt
Eli Mooneyham
Karastan Gamble
Ethan Tice
Brandon Dean McGaughy
Abby Grace Weatherbee
Brayden Allen
Bailey Timmons
Molly Luttrell
Isaiah Robertson
Audrey Williams
Ashlyn Brown
Sam Derrick
Alea Hudson
Sarah Robbins
Whit Everitt
Caleb Johnson
Anna Liz Ray
Alexandria Robertson
Anna Grace Warren
CJ Shirley
Caroline Nelle Boatwright